Coach Caprisha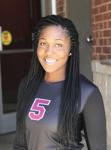 Coach Caprisha was born and raised in East Tennessee in Johnson City. She attended Cumberland University where she was a part of the volleyball team and completed her Bachelor's degree in Psychology. She then went on to obtain her Master's degree in Clinical Mental Health Counseling at Lipscomb University in Nashville, TN.
She is currently a mental health therapist in Atlanta and this is her 7th year coaching volleyball. While completing both degrees she coached AAU volleyball for ages 15 to 18 and high school volleyball. She enjoys not only coaching volleyball but helping her players find their passion within the sport, creating a competitive but fun environment.
Coaching volleyball is a way Coach Caprisha can help players improve their skills while creating a space for young women to grow mentally, physically, and emotionally. Her main goal each season is to help her players grow as a person and player all while having fun!
Book your private lesson today
1 to 4 players at a time with a single coach. Focus is on the skills the players want to focus on
Restrictions: During the season, players may not take private lessons from their team's Head Coach.
Lessons have a 24 hour cancelation/change period and will not be refunded if within the 24 hours.
1 player: $90  /  2 players: $110  /  3 players: $130  /  4 players: $150