Coach Alex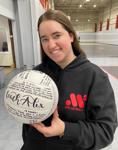 Coach Alex was born and raised near Atlanta, Georgia. She played for ten years as a setter. She attended and played on the volleyball team at Walton High School and she also played club volleyball at North Atlanta Volleyball Club. She is currently a senior at Georgia State University majoring in Exercise Science and Kinesiology and minoring in Psychology. She is also currently coaching middle school volleyball in the fall and has an internship at DexaFit where she does metabolic, bone density, and body composition testing.
Coaching became her passion when she was injured in high school, needed surgery, and could no longer play competitively.  She started by coaching elementary and middle school recreational volleyball. This gave her a way to stay in the sport that she loves and pass her passion on to those interested in playing and learning. She soon found that she felt most at peace when she was coaching and has decided that she wanted to coach long-term at a more competitive level.
Her coaching philosophy involves coaching the player as a whole: physically, mentally, and emotionally. Her goal is to encourage and uplift her players while also pushing them to be their best on and off the court. She is thrilled to be with M2 and cannot wait for many more season to come!
Book your private lesson today
1 to 4 players at a time with a single coach. Focus is on the skills the players want to focus on
Restrictions: During the season, players may not take private lessons from their team's Head Coach.
Lessons have a 24 hour cancelation/change period and will not be refunded if within the 24 hours.
1 player: $90  /  2 players: $110  /  3 players: $130  /  4 players: $150
**Important note: You can only book 1 private lesson per coach per week. Your lesson will be canceled and refunded if you book the same coach for 2 or more lessons in the week.