Coach Lee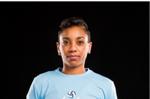 Coach Lee is originally from NY and played at Baruch College in Manhattan for 3 years. She's been playing for over 20 years in total and has been coaching for over 9 years at all levels: college, club, High School, and Middle School.
She enjoys both indoor and outdoor volleyball and likes to help players develop their skills. She loves teaching fundamentals and ball control.
She is very passionate about the sport and loves to see her players use the tools that she teaches them in the game to be successful.
Fun Facts about Coach Lee: She has her own accounting practice, 21yo twins, 3 bearded dragons, a very spoiled Shiba Inu (dog), and all of her pets are named after a lion king character!
Book your private lesson today
1 to 4 players at a time with a single coach. Focus is on the skills the players want to focus on
Restrictions: During the season, players may not take private lessons from their team's Head Coach.
Lessons have a 24 hour cancelation/change period and will not be refunded if within the 24 hours.
1 player: $80  /  2 players: $100  /  3 players: $120  /  4 players: $140