Coach Luciano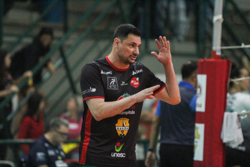 M2 is excited to have Coach Luciano Carvalho join us this year as head coach of our 16-1 and 14-2 National teams and assistant coach of our 15-2 National team.  Coach Luciano comes to us with an impressive international coaching background in addition to a strong academic background in physical education.
Coach Luciano has over 15 years of coaching experience, most recently  in Brazil, with accomplishments including both a State and National championship at U20.  He has coached in Bahrain, including championships at both 16 and 18U, and received an International Volleyball Federation award as the top Coach.  Coach Luciano also has  National Team experience as assistant coach for the Brazilian College National team at the University Olympic Games in South Korea in 2015.
In addition to numerous coaching certifications, Luciano also has a Bachelors Degree in Physical Education and a Post Graduate degree in Sports Training and Physiology.
Book your private lesson today
1 to 4 players at a time with a single coach. Focus is on the skills the players want to focus on
Restrictions: During the season, players may not take private lessons from their team's Head Coach.
1 player: $90  /  2 players: $110  /  3 players: $130  /  4 players: $150
**Important note: You can only book 1 private lesson per coach per week. Your lesson will be canceled and refunded if you book the same coach for 2 or more lessons in the week.